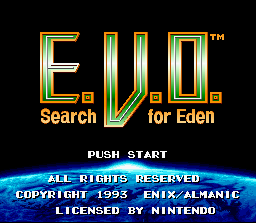 Podcast: Play in new window | Download
Wednesday has come again so that means its time for TADPOG Original Flavor Wednesday. This week we're discussing IGN's #42 ranked SNES game, E.V.O. Search for Eden. The First Lord of the TADPOG Nation, Dennis Robison stops by to guest host. In this episode we deeply explore the controversial topic of the teaching of creationism vs. evolution in today's public school system and back up all our points and counterpoints with well-documented sources. Not really but there is a lot of banter and speculation about where this game was coming from and what is was trying to say.
In This Episode:
Plugs:
Don't you miss an episode! Subscribe to TADPOG on iTunes.
Find us at tadpog.com or facebook.com/tadpog and let us know what you think of the show.
Call 270-883-2555 and leave us a voice mail. Relevant or not, we don't mind.
Follow us on Twitter @TADPOG_Podcast
Leave us an email at either tyler@tadpog.com or dave@tadpog.com, you could try tyler@dave.com but no promises.
Theme Song:
Our regular theme song is Moves by Sycamore Drive and is used as our intro/outro under a Creative Commons Attribution-Noncommercial-Share Alike 3.o United States License.