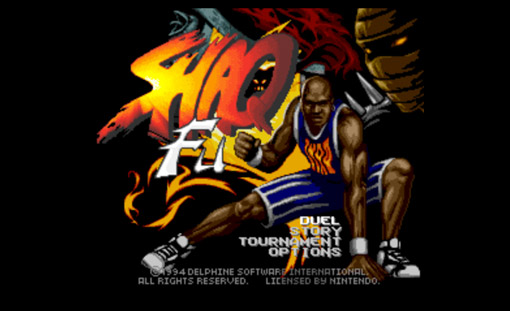 Podcast: Play in new window | Download
We're doing things a little different on this episode. Matt Barger suggested that we play one horrible game for each ten games that we play from IGN's Top 100 SNES games. So, we polled our wonderful listeners and they decided that we should play Shaq Fu, the 1994 "classic" for the Super Nintendo.
In This Episode:
We find out why Tyler doesn't camp anymore.
Mondo finale.
The Triumphs of Homo-Meth Cabin.
The return of Yuki's Papa.
Despite our negligence, there's still a TADPOG Steam group.
Jacob (of Final Fight fame) updates.
Shaq Fu DLC.
TADPOG Theatre! (ACTIIIING!)
We need information on Shaq's missing album.
Shaq is either being teleported to Second World, or he's buying mogwai.
No flaming basketball?
Dennis Rodman explained.
Shaq Fu achievements.
Shaq Fu trivia.
We beg Hyperkin for a sponsorship.
Where are they now? Delphine Software.
"Second World EA is Tetsuo".
Goat Marriage Countdown.
What We've Been Playing:
Dave played and beat the original Mega Man for the NES.
Tyler played and beat the original Legend of Zelda, played 999 and started Cave Story.
Mentioned in the Show:
Shout Outs:
Kevin Link
Ramon Castillo
Josh Nance
Nicole Nance
Meg Holland
Jess Dockrey – suggstreetpost.com
Matt Barger
CWRATADPOG
blastmastler
Jacob York
Plugs:
Theme Song:
The song Moves by Sycamore Drive was used as our intro/outro under a Creative Commons Attribution-Noncommercial-Share Alike 3.o United States License.