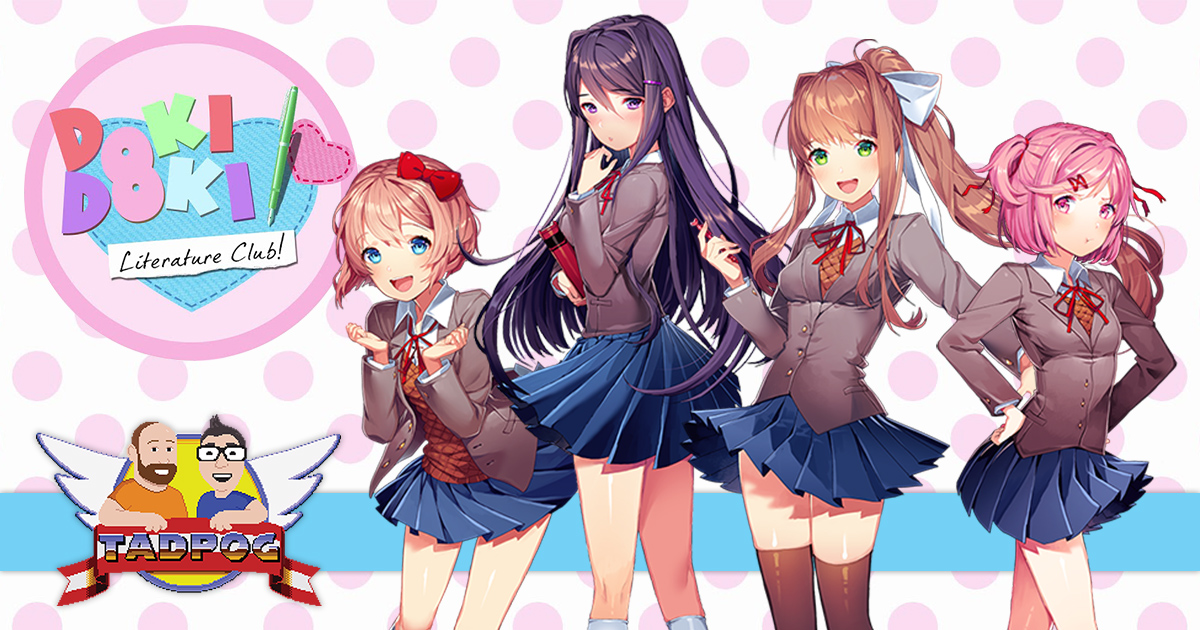 Podcast: Play in new window | Download
Merry (day after) Christmas! Now that we have severely dated this episode—Rhythm Master Paul Corn and Soul Sister Yarn Sorceress Chandra join us on this one to talk about Doki Doki Literature Club by Dan Salvato. It's a free visual novel released on Windows, Mac, and Linux. We don't typically do this but…we're going to show our hand here in the written post and say that this visual novel is very good and it is worth experiencing. We recommend you check it out before listening to the back half of this episode because we spoil it like a chihuahua in an expensive purse. The first forty minutes are filled with us goofing off, eating exotic "meat products" sent in by our friend Link, and playing a fun game called "Dumpster Treasure or Prized Possession" brought to us by Holy Dumpster Diver, so that's all spoiler-free content. We wrap things up by responding to listener voicemails.

Doki Doki Literature Club Podcast Shownotes:
Plugs:
Don't you miss an episode! Subscribe to TADPOG on iTunes.
Find us at tadpog.com or facebook.com/tadpog and let us know what you think of the show.
Call 270-883-2555 and leave us a voice mail. Relevant or not, we don't mind. You could also text us. We're down for that.
Follow us on Twitter @TADPOG_Podcast
Leave us an email at either tyler@tadpog.com or dave@tadpog.com, you could try tyler@dave.com but no promises.
Feel like helping out the show? We have a Patreon at www.patreon.com/tadpog if you feel so inclined.
Mail us something at: TADPOG Studios; c/o Nicole Nance; PO Box 3785; Paducah, KY 42002
Theme Song:
Our regular theme song is Moves by Sycamore Drive and is used as our intro/outro under a Creative Commons Attribution-Noncommercial-Share Alike 3.o United States License.