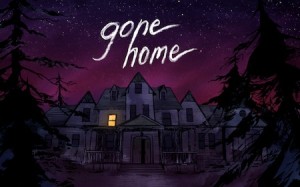 Podcast: Play in new window | Download
It's Monday, TADPOG Nation so that means its time for O.S.M. and this week we have fulfilled a request for Jacob York, of Wolf Fighting and this episode fame, to do the indie hit Gone Home. We really break this game down and give our talk and opinions of it so its a long one. We hope you still enjoy it. Tangents include same sex encounters, Vietnam Veteran Substitute Teachers and so many YouTube videos.
In This Episode:
Plugs:
Don't you miss an episode! Subscribe to TADPOG on iTunes.
Find us at tadpog.com or facebook.com/tadpog and let us know what you think of the show.
Call 270-883-2555 and leave us a voice mail. Relevant or not, we don't mind.
Follow us on Twitter @TADPOG_Podcast
Leave us an email at either tyler@tadpog.com or dave@tadpog.com, you could try tyler@dave.com but no promises.
Theme Song:
Our regular theme song is Moves by Sycamore Drive and is used as our intro/outro under a Creative Commons Attribution-Noncommercial-Share Alike 3.o United States License.