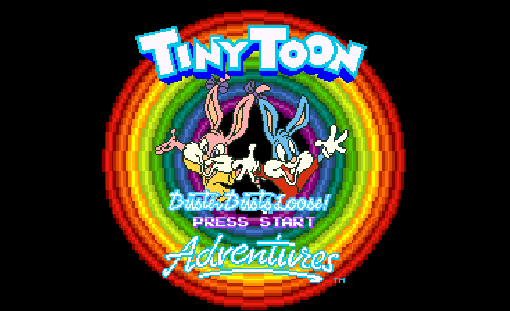 Podcast: Play in new window | Download
This week we're talking about Tiny Toon Adventures: Buster Busts Loose! for the Super Nintendo.
In This Episode:
It's Amy Jo Johnson o'clock!
Confessions of a Player Killer.
Konami was busy making all manner of Tiny Toon games in 1993.
The password is "Nintendo Hotline".
The best thing about Stage 2 is that it's a huge reference to Back to the Future 3.
Tyler knows nothing about football or tires.
Squash.
Tyler has a great idea for a Fowlmouth game.
Yuki's Mama can cook. Don't get it? Listen to the Final Fight episode.
How many desserts does it take to fill a tasmanian devil?
What We've Been Playing:
This week Tyler and Dave both played Lootfest Borderlands 2.
Dave likes ninjas, so he's playing as a Number.
Tyler likes female characters, so he's playing a Scion.
We have not been playing Diablo, Diablo II or Diablo III this week, but we talk about them all at length for some reason.
Mentioned in the Show:
Tiny Toon Adventures: Buster's Hidden Treasure
Buster's Bad Dream
Tiny Toon Adventures Theme Song
Shout Outs:
Dennis
Eli
Father Wiley: @WileyAmmons
Josh
Nikki: @Nirbymoore
Happy birthday, James!
Plugs:
Don't you miss an episode! Subscribe to TADPOG on iTunes.
Find us at tadpog.com or facebook.com/tadpog and let us know what you think of the show.
The song Moves by Sycamore Drive was used as our intro/outro under a Creative Commons Attribution-Noncommercial-Share Alike 3.o United States License.